Campground:
Dog-Friendliness:
We went on a camping trip in late November to Spring Lake Regional Park in Santa Rosa, CA. We stayed at site 24.
Rogina Roaming is supported by its audience. When you purchase through links on our site, we may earn an affiliate commission at no extra cost to you.
The Campsite
Though you can see most of the campground from any given site, the spots are all spacious. It is a small campground and none of the spots are too secluded. But, there is enough space between the spots to feel like you can explore and have some fun.
The kids were big fans of the large rocks (or "hopping stones" as they called them) throughout the campsite. They were also happy to find a couple of trees that were not too difficult to climb. There were also a few painted rocks in our campsite other campers had hidden. That was a fun surprise for the kids.
Our particular spot (#24) fit our 20 foot travel trailer and our truck with no issues. The spot was also very level. We did raise the passenger side slightly to get things perfect, but we probably wouldn't have noticed the difference either way.
The site also had a fire pit, picnic table, and bear locker.
The Best Campsites
Sites 2 & 3

These two sites work well together if you have a tent in site 3 and a trailer in site 2.

Site 5

This is the only pull-through site at the campground. The one downside to this site is there is a trail to the lake next to the site so people often walk through the site.

Site 24

This is our favorite site. It's on a corner so you get a lot more space than many of the other sites. It would work well with friends in campsite 31 as well.
The Weather
Considering we were there in November, we had great weather. The day we got there was wet. It had rained earlier that day and rained more in the evening. That was the only rain we had though. Everything dried up around lunch the next day and we had sunshine the rest of the time. It was still a little cold, but warmer than you'd expect in November.
The Activities
The campsite is right on the lake. You can easily walk to the lake right from camp, which is awesome. Around the lake there are several different exercise stations. We never use these the proper way but the kids love to stop and play on them.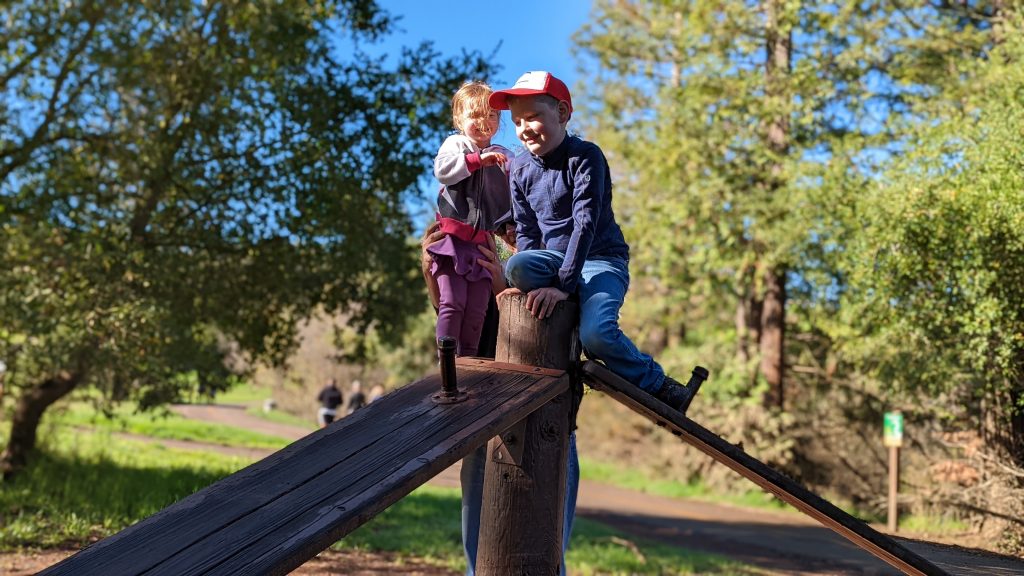 And just down the street is Howarth Park. Howarth Park is filled with activities for kids. There are parks, a carousel, a train ride, a petting zoo, and pony rides. You can also rent a paddle boat and feed some ducks.
The Dog-Friendly Hiking
The dog-friendly hiking at Spring Lake is one of our favorite parts about it. Not only are dogs allowed at the campground but they are allowed on the trail around the lake. It seems to be a rare find in California to go to a campground and have access to a dog-friendly trail directly from camp.
The Beer
The local beer we got this time was from Hen House Brewing. We were lazy and bought this from a grocery store instead of going to the brewery, but it was still good! We got the Phantom Time IPA and we would definitely be willing to drink it again.
The Recap
We will be back. We love how convenient this campground is. It's small and you can see your neighbors but it's worth it. There's space to roam in your campsite, you can walk to a beautiful trail, and you can bring your dog everywhere!
Campground Details:

Spring Lake Regional Park
5585 Newanga Ave, Santa Rosa, CA 95405

Can reserve online at reserve.sonomacountycamping.org. Reservations open 1 year ahead at 12am PST.