Campground:
Dog-Friendliness:
We went on a camping trip to Richardson Grove in Garberville, CA. Richardson Grove is a California State Park. We stayed at site 54.
Rogina Roaming is supported by its audience. When you purchase through links on our site, we may earn an affiliate commission at no extra cost to you.
The Campsite
Our 20 foot trailer did fit in campsite #54, but it was a little tricky. Getting the trailer into the site was relatively easy, the problem was the site was extremely unlevel. When we first turned on our LevelMatePRO we saw that one side of the trailer needed to go up more than 8 inches. That is a pretty extreme amount and that is higher than what we can easily do with our levelers. So what we did was we moved the trailer around a bit on the parking pad while monitoring the LevelMatePRO app. We were able to find a spot not too far off from where we wanted to be that was only off by 6 inches. We decided to park there and level it out. Now, not only did we have to raise the site by 6 inches but the tongue needed to be raised much higher than normal as well. We got it all worked out and it turned out to be fine but if we return to this site we will bring extra leveling blocks which will make the process far easier.
Even though parking in this campsite took a little longer than expected, it was definitely worth it. We had a nice large site and looking around at the other sites this seemed to be the best option for our trailer.
This site felt very private. We did have a neighbor on one side but they were far and blocked by bushes and trees.
There was a large redwood tree in the center of the site that the kids loved. They spent most of the trip running around that tree, climbing it, or even hugging it.
This is a dry campground. There were no hook-ups and there was no dump station. We had a good cell signal through Verizon.
The Best Campsites
Site 54

We really enjoyed camping at this site. Though it was unlevel it was a nice spot for our trailer.

Sites 59 & 61

It's rare that I recommend sites that aren't great trailer sites but I thought these sites were worth mentioning. I don't think we would take our trailer to either of these sites but in the middle of them is what we call the "hakuna matata log." There is a massive log in between these sites that is fun to climb on and walk down. It's a fun area if you have a small enough rig or a tent.

Sites 74 & 75

These sites are pull-through sites right on the side of the road. So the side of your trailer is on the road. These are not our favorite sites in general but these two were worth mentioning because they share the same parking pad. If you have two trailers camping together this is a great spot.

Campground Recommended RV Sites

The campground actually provided a list of the best sites for RVs. Now, when we looked at these sites they were all the type of sites where you are basically parked on the side of the road. They are classified as a pull-through but we are not a fan of these because the side of your trailer is right on the road. Still, it seems useful to know which sites the campground thinks are best for trailers.
Huckleberry Loop: #2, #19, #21, #22, #25, #28, #29, #31, #34
Madrone Loop: #43, #46, #49, #56, #67, #74, #75
Oak Flat Loop: #77, #78, #79, #80, #82, #83, #86, #88, #90, #108, #110, #135, #136, #137, #138, #140, #147, #154, #157, #162, #165
The Weather
We were here in June and it was warm but there was enough shade from redwood trees that it wasn't a problem. It was nice that it was warm enough to play in the river but still felt cool back at camp. There were a lot of mosquitos around this time of year. We noticed them a lot at camp but not as much down at the river.
The Activities
The campground is on the South Fork of the Eel River. You can walk to the river from camp. There is a swimming hole a little further down but we just swam at the part of the river closest to our campground loop.
Not too far from the campground is the Avenue of the Giants. This is worth driving through and seeing if you haven't done it before.
And only a couple minutes away is the Legend of Bigfoot shop. It's a Bigfoot themed gift shop. If you haven't been before it's a fun place for the kids to check out and get a small bigfoot or redwood themed souvenir.
The Dog-Friendly Hiking
This campground does have hiking trails, and like most California State Parks, they are not dog-friendly. However, they also have trails that go between the different campground loops, to the river, and around the area near the amphitheater. All of those trails are fine for dogs. So we were very happy about that. Those trails were enough for our kids and dog and we really enjoyed being able to take our dog on a trail to get to the river.
A couple of the dog-friendly paths there were to exhibit areas where you can see a chandelier tree and see the rings of an old fallen redwood. It was really cool to get to go explore these areas.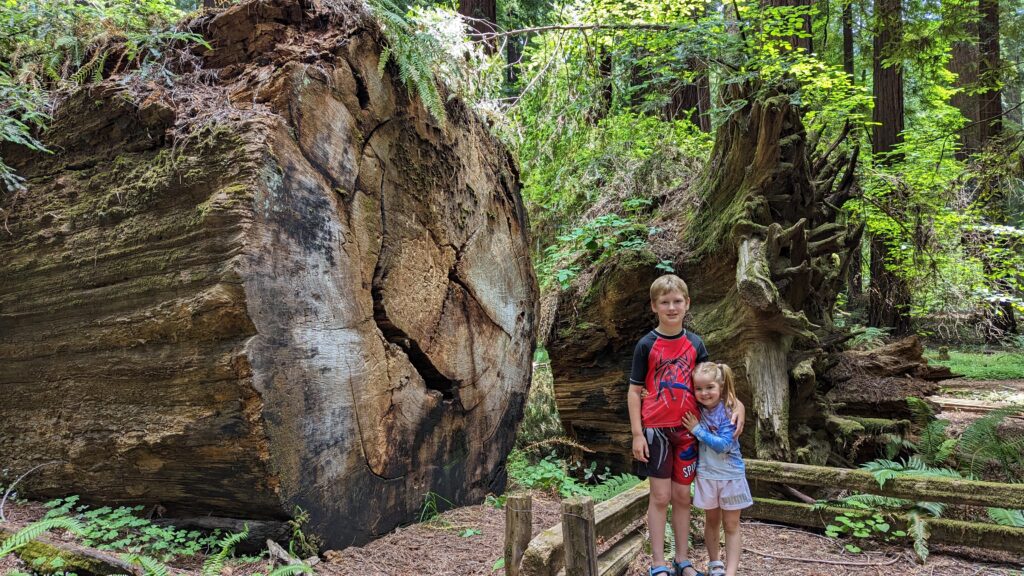 The Beer
Eel River Brewing Company in Fortuna is probably the closest brewery to the campground and it's a bit of drive. So we didn't go on this trip but we have before. If you are already going up north to check out the Avenue of the Giants this is worth stopping at. Otherwise, just bring some craft brew with you.
The Recap
Richardson Grove is a beautiful campground and on a beautiful part of the Eel river. For being such a large campground there aren't too many trailer friendly sites (unless you like parking on the side of the road). But we wouldn't hesitate to come back because campgrounds that have both redwoods and a water feature are our favorite places to be.
Campground Details:

Richardson Grove State Park
1600 US-101, Garberville, CA 95542

Can reserve online at reservecalifornia.com. Reservations open 6 months ahead at 8am PST.