Campground:
Dog-Friendliness:
We went on a camping trip to Beachfront RV Park in Brookings, OR. We stayed at site 84.
Rogina Roaming is supported by its audience. When you purchase through links on our site, we may earn an affiliate commission at no extra cost to you.
The Campsite
This is not the type of campground we typically visit. In fact, it's advertised as an RV Park, not a campground, which does feel appropriate because the experience is more similar to a parking lot than a campsite. They don't even allow tents to camp here.
Many of the sites, including ours, were pull-through sites so parking our 20 foot trailer was no problem at all. It was fairly level but not perfect.
Out of all of the sites at Beachfront RV, our site (#84) may have been the worst. It is the only site in the entire park with a street light directly above it. Our entire trailer was lit up the entire night.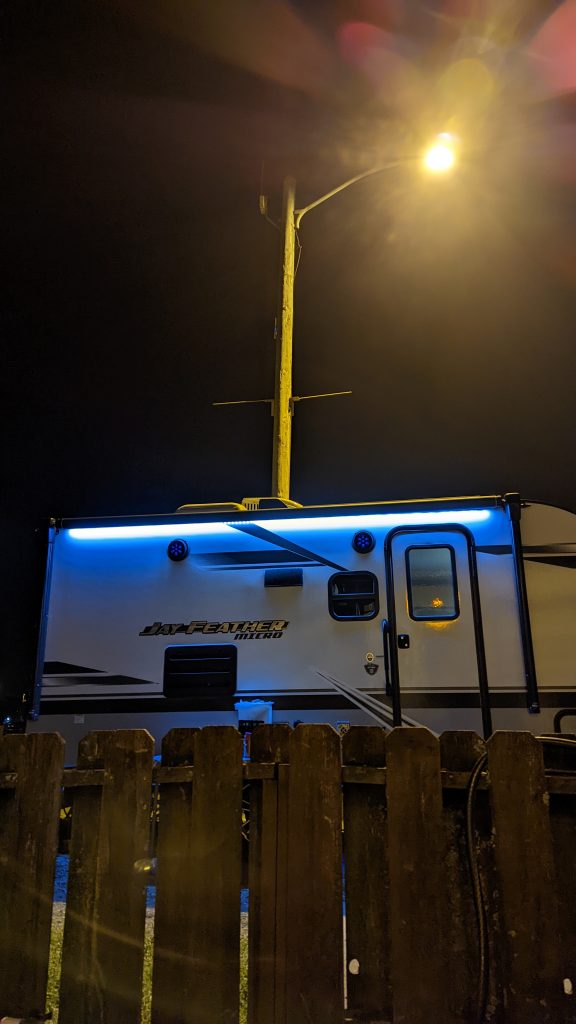 There are other street lights but they are positioned over the street. Whereas ours was literally in the middle of our site above our trailer.
There is no seclusion of any kind. These spots are all lined up next to each other and they are very narrow. Your windows look right at your neighbors.
Now, the one redeeming quality about this campground is the location. These sites are right on the beach. You can hear the ocean from your trailer and the beach is always just a few steps away.
The Weather
We were there in June and actually had light rain. It wasn't enough to keep us away from the beach though. As expected it was also pretty windy. Again, not enough to keep us away from the beach but it was enough that we couldn't play cards outside. The weather was beautiful blue clear skies on the day we were leaving.
The Activities
The campground is right on the beach. We also really liked that along the edges of the beach they had areas with beach toys available. They were free to take out and play with and then you just return them to where you found them when you're done.
The Dog-Friendly Hiking
We did not look for any dog-friendly hiking while we were there. The beach, however, is dog-friendly and that is where we spent our time.
The Beer
Right down the street is an Irish pub called Fat Irish. They didn't have a good selection of local craft beer but instead focused on Irish and European beers. We had some Goose Island IPA and it wasn't bad. The food there was pretty good and it was a nice outing overall.
The Recap
Beachfront RV is located right on a dog-friendly beach. There really isn't anything else positive to say about the place.
Campground Details:

Beachfront RV Park
16035 Boat Basin Rd, Brookings, OR 97415

Can reserve online at beachfrontrvpark.com. Reservations open 6 months ahead.