Campground:
Dog-Friendliness:
We went on a camping trip to Sugarloaf Ridge State Park in Kenwood, CA. Sugarloaf is a California State Park. We stayed at site 28.
Rogina Roaming is supported by its audience. When you purchase through links on our site, we may earn an affiliate commission at no extra cost to you.
The Campsite
Parking our 20 foot trailer in campsite 28 was no problem. The site wasn't very level but it was more than long enough to accommodate the trailer and truck easily.
The campsite was massive! It was the largest space we've ever had at a California State Park. The initial site was large, but then there were basically three levels. From the top initial level of camp you could walk down to another plateau that was about half the size of the top level. Then, below the second level is a third and final level with a creek.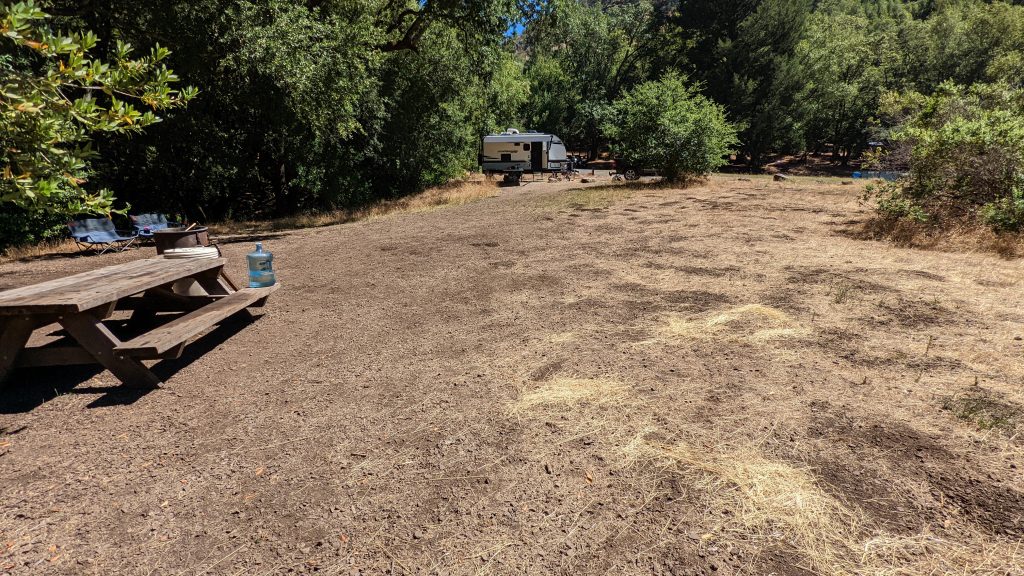 There was so much space to explore. And though we did have neighbors on one side of us they were pretty far away. Because of the direction our site was angled we didn't see any other sites or any other campers. It felt like we had a private creek.
It is worth noting that this particular site was listed as a "premium" site. Not all of the sites are this large.
Now, the downside to this is that the trailer felt very far away. Where the trailer was parked was on a small hill so it started to feel like a hike every time we went back to the trailer. Plus, because of the position of the trailer we couldn't put out our outdoor rug or set up a seating area too close to the trailer. Since there weren't too many trees at the top level we wanted to use the awning but it was hard to get the shade to reach where it was level enough to put chairs.
The campground had absolutely no cell service. I didn't have enough to send or receive even a text message the entire time. There was wifi available at the Visitor Center but we didn't try to connect to that. It was pretty far from our site so we would have had to walk up there to use it.
The campground also has an observatory. It was closed while we were there but we found that just sitting at camp was a great spot to view the stars. One of the benefits of fewer trees on the top and primary level of camp meant that we could see the stars at night and the kids enjoyed getting to see some constellations.
The Weather
We were there in July and it was pretty warm. It got to the low 90s during the day. Down near the creek where it was shaded it was still comfortable. Closer to the trailer where there weren't many trees it was pretty warm but did cool off in the evening.
The Activities
Right in front of our site was a paved loop which turned out to be a great spot for the kids to ride their bikes.
Other than riding bikes, the primary activity we did while there was play in the creek. The kids really enjoyed playing with the stones in the water and trying to create paths of water to race their "boats." They would find small pieces of bark and put them in the water like a boat and when the boat got stuck they would adjust that part of the water. This kept them occupied for hours.
We also attended the campfire program. There were songs, good information about the creek and campground, and even a skit that the kids got to participate in. That was pretty exciting for them.
The Dog-Friendly Hiking
Since we were only here for a day we didn't look into any dog-friendly hiking. There are a few hikes right at Sugarloaf that we certainly would have done, but sadly they didn't allow dogs. To find a dog-friendly hike we would have had to leave the park and we weren't interested in doing that for our short trip. Luckily, our dog seemed happy hanging out near the creek.
The Beer
We didn't end up getting any local beer because it was a short trip. We brought some with us instead. But, if we go again we will definitely go to TIPS Roadside for some beer and dinner. It is a long road, so it would be a short drive, but it's at the end (or beginning depending on your direction) of the road you take to get to the park.
The Recap
Sugarloaf Ridge was a fun short getaway. We were very happy with the privacy and space that we had at camp. And even though there were no dog-friendly hikes, we had a great time playing in the creek right at camp.
Campground Details:

Sugarloaf Ridge State Park
2605 Adobe Canyon Rd, Kenwood, CA 95452

Can reserve online at reservecalifornia.com. Reservations open 6 months ahead at 8am PST.