Campground:
Dog-Friendliness:
We went on a camping trip to Doran Regional Park in Bodega Bay, CA. Doran Park is one of the Sonoma County Regional Park campgrounds. The campground is situated between Doran Beach and the Bodega Harbor. We stayed at site 5.
Rogina Roaming is supported by its audience. When you purchase through links on our site, we may earn an affiliate commission at no extra cost to you.
The Campsite
Our 20 foot trailer fit in our campsite (#5) with no issues. The site itself was amazing, much better than we were expecting. There are a lot of sites in this small campground so we weren't expecting to have much space. This particular site had tons of space for the kids to explore. We had great views of the harbor and a couple of areas between trees that the kids could climb and explore in.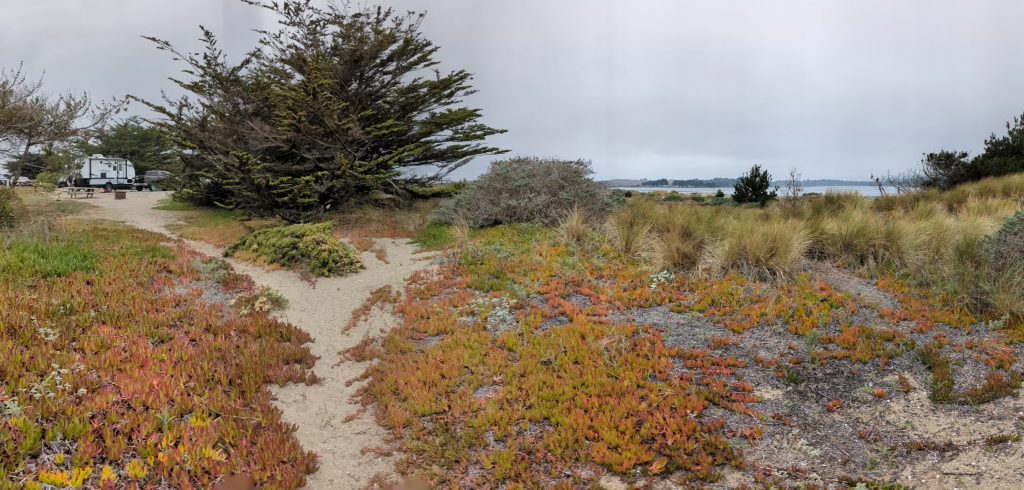 This is a dry campground. There are no hook-ups. There was a dump station. And we had decent cell service through Verizon.
The Best Campsites
Site 5

We liked this site quite a bit. While the sides are just about as close to neighbors as other sites, the back of the site is wide open and not easily accessed by other campsites. This gives a lot of area to walk around and explore right at camp.

Sites 5 & 6

Site 5 worked great for us but we were lucky and had no neighbors in campsite 6. Site 6 is the closest neighbor and part of the views from site 5 look right through campsite 6. These two sites would work great together and would feel pretty private.

Site 15

The campground ranger recommended campsite 15. He said it backs up to the harbor and consequently has the best views. He did say it's even better if you have a window in the back of your rig, but beautiful either way.

Sites 26 & 27

These sites work well together. They are right next to a trail and the road so it may not feel as private. The ocean is right across from the road as well though so you have views from camp.

Sites 73 & 74

These sites would be great for a group of two. They are oriented well together and hedges between other sites give the illusion of seclusion.

Site 76

The site is surrounded by trees so it hides the neighbors. And you can still see the harbor through the trees.

Sites 77 & 78

These sites work well together. There is more sun in this area but the sparse trees also provide better views. From site 78 you can see the ocean. It is distant and across a road but it is still a beautiful view.
The Weather
We were here in the fall, it was late October, and it was windy! There was actually a wind advisory the weekend we were there so I don't think that was normal weather. The worst winds were about 30 miles per hour. It was pretty rough on the beach during the high winds, lots of sand in the air. It was also challenging to cook. While the winds were bad we had to cook inside the trailer. That was the first time we've camped with winds bad enough that we couldn't cook outside.
The Activities
This campground is right on the beach. Whether you want to play at the beach or walk along it, it is right there and beautiful.
On the opposite side is the Bodega Harbor. There is a small boat ramp there. That is also where you can go fishing.
And all around the campground are hiking trails.
The Dog-Friendly Hiking
The trails at Doran Regional Park are all dog-friendly! The main trail is 2 miles one-way. The beach is also dog-friendly. Just about anything you want to do here you can also do with your dog.
The Beer
There aren't any breweries in Bodega Bay but there are restaurants that serve beer. We just brought beer from home but we had considered visiting the Bluewater Bistro. It's not far from camp and last we were there the bar had some local beers on tap.
The Recap
Doran Park is a great place to camp. You're surrounded by water so just about every site has good views. It's dog-friendly, kid-friendly, and an overall relaxing place to camp.
Campground Details:

Doran Regional Park
201 Doran Beach Rd, Bodega Bay, CA 94923

Can reserve online at reserve.sonomacountycamping.org. Reservations open 1 year ahead at 12am PST.